Overview
Mineral Resource Estimate, October 2022
New JAC Target (Southwest zone)
Geology
Exploration History
NI 43-101 Technical Report, November 2022
Diablillos is a 7,919 ha (79 km2) property located in the Argentine Puna region, which is the southern extension of the Altiplano of southern Peru, Bolivia, and northern Chile. It is a high plateau, separating the Cordillera Oriental to the east from the Andean Cordillera (Cordillera Occidental) to the west. Other major deposits in this region include Taca Taca, Escondida, and Pirquitas.
There are currently seven known mineralized zones on the Diablillos property, with the Oculto zone being the most important and the best explored. Oculto is a high-sulphidation epithermal silver-gold deposit derived from remnant hot springs activity following Tertiary-age local magmatic and volcanic activity with strong supergene overprinting.
Ownership
100% AbraSilver
Remaining payment of US$7M due to EMX Royalties in 2025
Geology
High-sulphidation epithermal silver-gold deposit
Location
Salta Province, Argentina
Approx. 160 km southwest of city of Salta, along border between Provinces of Salta and Catamarca
Elevation
Between 4,100 to 4,650 MASL
Nearby Projects in Salta
Lindero (Fortuna Silver)
Taca Taca (First Quantum)
Rio Grande (Aldebaran)
El Quevar (Golden Minerals)
Drilling to Date
+120,000m with expenditures of ~US$50 million
Stage
Pre-Feasibility Study expected to be completed in H2/2023.

Visualization of October 2022 Mineral Resource Estimate at Oculto Deposit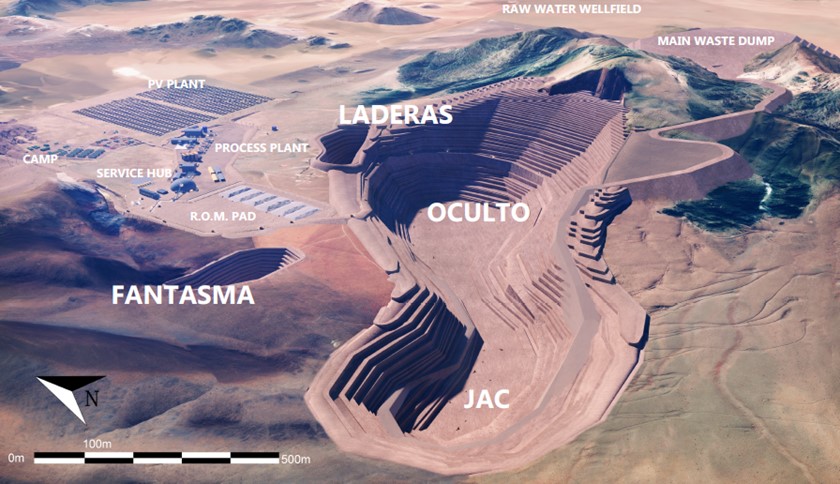 October 2022 Mineral Resource Estimate
Oculto Mineral Resource Estimate – As of October 31, 2022
Zone
Category
Tonnes
(000 t)
Ag
(g/t)
Au
(g/t)
AgEq
(g/t)
Contained Ag
(k oz Ag)
Contained
Au
(k oz Au)

AgEq
(k oz AgEq)

Oxides
Measured
18,092
101
0.85
171
58,655
496
99,280
Indicated
30,226
49
0.71
107
47,502
688
103,852
Measured &
Indicated
48,318
68
0.76
130
106,157
1,184
203,132
Inferred
2,090
31
0.50
72
2,085
33
4,788
Transition Zone
Measured
1,244
50
1.21
149
1,979
49
5,992
Indicated
1,752
22
1.13
115
1,235
64
6,477
Measured &
Indicated
2,996
33
1.17
129
3,214
113
12,469
Inferred
127
7
0.80
73
29
3
275
Total
Measured
19,336
98
0.88
170
60,634
544
105,190
Indicated
31,978
47
0.73
107
48,737
752
110,329
Measured &
Indicated
51,314
66
0.79
131
109,370
1,297
215,520
Inferred
2,216
30
0.51
72
2,114
37
5,144
Notes for October 2022 Mineral Resource Estimate:
Mineral Resources are not Mineral Reserves and have not demonstrated economic viability.

The Mineral Resource is reported inside a conceptual Whittle open pit shell derived using US $25.00/oz Ag price, US $1750/oz Au price, 73.5% process recovery for Ag, and 86% process recovery for Au. The constraining open pit optimization parameters used were $3.00/t mining cost, $24.45/t processing cost, $2.90/t G&A cost, and average 54-degree open pit slopes.

The formula for calculating AgEq is as follows: Silver Eq Oz = Silver Oz + Gold Oz x (Gold Price/Silver Price) x (Gold Recovery/Silver Recovery)

The Mineral Resource Estimate has been categorized in accordance with the CIM Definition Standards (CIM, 2014).

All figures are rounded to reflect the relative accuracy of the estimates. Minor discrepancies may occur due to rounding to appropriate significant figures.

The Mineral Resource was estimated by Mr. Peralta, B.Sc., FAusIMM CP(Geo), an independent Qualified Person within the meaning of NI 43-101.

The mineralisation estimated in the Mineral Resource is sub-horizontal with sub-vertical feeders and a reasonable prospect for eventual economic extraction by open pit methods.

A cut off grade of 35 gt AgEq was used for the Mineral Resource

The Mineral Resource models used Ordinary Kriging grade estimation within a three-dimensional block model and mineralized zones defined by wireframed solids, which are a combination of lithology and alteration domains. Constrained by a Whittle open pit shell. The 1m composite grades were capped where appropriate.

All tonnages reported are dry metric tonnes and ounces of contained gold and silver are troy ounces.

In-situ bulk density were assigned to each model domain, according to sample averages of each lithology domain, separated by alteration zones and subset by oxidation.

Mining recovery and dilution factors have not been applied to the Mineral Resource estimates.

Mr. Peralta is not aware of any environmental, permitting, legal, title, taxation, socio-political, marketing, or other relevant issues that could materially affect the potential development of the Mineral Resource.

Totals may not agree due to rounding.
October 2022 Mineral Resource Estimate
The October 2022 Mineral Resource estimate was completed by Luis Rodrigo Peralta, B.Sc., FAusIMM CP(Geo), Independent Consultant, in accordance with Canadian Institute of Mining, Metallurgy and Petroleum ("CIM") Definition Standards incorporated, by reference, and in compliance with National Instrument NI 43-101 - Standards of Disclosure for Mineral Projects ("NI 43-101"), and has been reviewed internally by AbraSilver. The October 2022 Mineral Resource estimate is the result of 104,888 metres of drilling in 457 drill holes. The Mineral Resource is based only on the Oculto deposit within the broader Diablillos property and is reported inside a Whittle open pit shell with a cutoff grade of 35g/t silver equivalent, based on the economic parameters outlined in the Supporting Technical Disclosure section below.
Gold and silver grades were estimated into the block model using Reverse Circulation Drill holes (RC), Diamond Drill holes (DDH) including the recent drilling between 2019 to July 30th, 2022. It was estimated applying industry-standard estimation methodology: Ordinary Kriging (OK) and bias was reviewed using an Inverse Distance squared estimate (ID2) for comparison. Drill hole intervals have been composited to a length of 1 m, which is the average sampling length for core sampling. Grade capping has been applied to composited grade intervals on a case-by-case basis within each estimation domain. The estimation domains were defined using a combination of lithology domains, alteration domains, and oxide / sulphides state, defining a set of 18 domains for gold and silver.
Mineral Resource Estimate Sensitivity
A table showing sensitivities to the cut-off grade for the October 2022 Mineral Resource in the Measured and Indicated category is provided below.
Cut Off
(AgEq)
Tonnage Oxides
(000 t)
Silver Grade
(g/t)
Gold Grade
(g/t)
Silver Equivalent Grade
(g/t)
10
105,215
38
0.44
75
20
75,228
50
0.58
98
30
57,492
61
0.72
120
35
51,314
66
0.79
131
40
46,206
71
0.85
141
50
38,212
81
0.96
160
60
32,254
91
1.07
179
Supporting Technical Disclosure
Mineral Resources that are not Mineral Reserves do not have demonstrated economic viability.

The Mineral Resource incorporates geological and structural constraints and is constrained by an optimized Whittle open pit containing a total of 51.3 Mt of M&I Mineral Resource and 234.0 Mt of waste.

Individual metals are reported at 100% of in-situ grades.

Sensitivity cut-offs reported are a subset of the in-pit Mineral Resource.

The effective date of the Mineral Resource is October 31, 2022, and is based on drilling through July 30th, 2022.

There are no known legal, political, environmental or other risks that could materially affect the potential development of the Mineral Resource.

Key Assumptions are outlined below (all figures are in US dollars unless otherwise noted):

Commodity prices:

Note: Commodity price assumptions were guided by the NI 43-101 requirement for the Mineral Resource to have 'reasonable prospects' of eventual economic extraction.

Metallurgical recoveries: metallurgy recoveries were assumed as 73.5% for silver and 86% for gold, as demonstrated in the Company's Preliminary Economic assessment in respect of the Diablillos property dated January 13, 2022.

Operating cost assumptions: Mining costs of $3.00/t; processing costs of $24.45/t; and G&A costs of $2.90/t.

Open pit slopes: Open pit shell slope angles have been re-designed, based on recent geotechnical drilling and modelling. Six geotechnical sectors have been defined. The average inter-ramp angle assumed for open pit shell generation was 54 degrees.

The formula for calculating AgEq is as follows: Silver Eq Oz = Silver Oz + Gold Oz x (Gold Price/Silver Price) x (Gold Recovery/Silver Recovery)

A full Technical Report in respect of the October 2022 Mineral Resource will be prepared in accordance with NI 43-101 and will be filed on SEDAR
Qualified Persons and Technical Information
The site visit, review of various geological aspects including sampling, drill core, logging, assay laboratory, independent check sample and October 2022 Mineral Resource estimate were done by Mr. Luis Rodrigo Peralta, B.Sc., FAusIMM CP (Geo). Mr. Peralta is an independent Qualified Person ("QP") as defined by the NI 43-101.
Visualization of Large-Scale JAC Target (Open Along 800m Strike Length)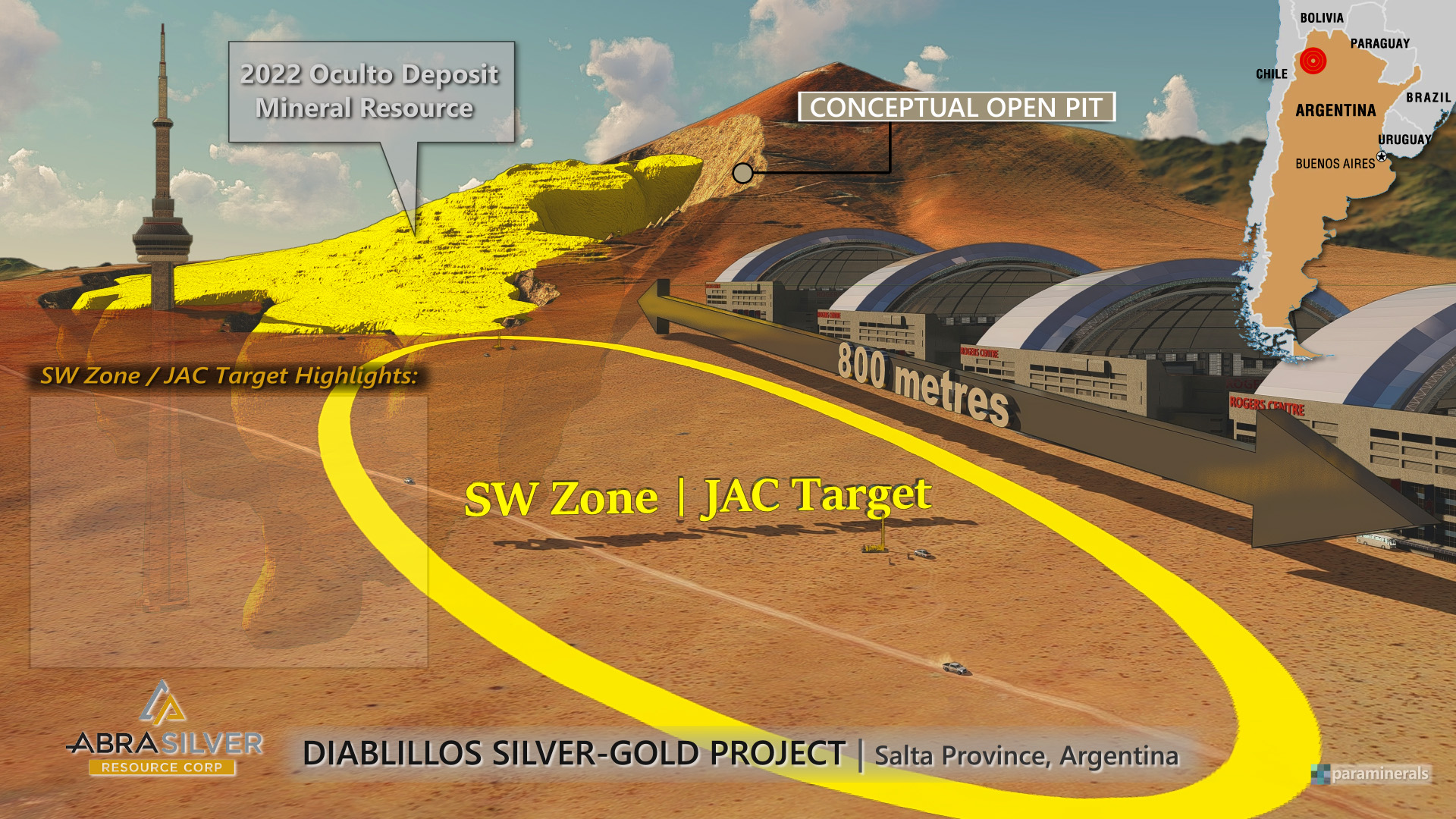 New Southwest zone (JAC Target)
The Company announced results from the first drill hole in the new Southwest zone, DDH 22-019, on August 3, 2022. That discovery hole intercepted 87 metres at 346 g/t Ag and 0.15 g/t Au in oxides from a downhole depth of only 89 metres.
The new Southwest zone adds a brand-new dimension to the Diablillos project and opens up considerable blue-sky potential. The prominent linear magnetic anomaly tested by hole DDH 22-019 follows the same east-northeast direction as the conduits that host the mineralised hydrothermal breccias at Oculto. The structural zone interpreted to be the cause of the magnetic anomaly extends for at least one kilometre beyond the conceptual Oculto open pit margin. The high-grade silver encountered in hole DDH 22-019 demonstrates potential for a major mineralised zone extending well to the southwest of Oculto.
The magnetic pattern associated with mineralization in the Southwest zone is believed to be a reflection of structures that control hydrothermal fluids in this area. This intersecting pattern of structures is also believed to control silver oxide mineralisation at the nearby Fantasma and Alpaca targets (see Figure below). This results in a large area, totaling approximately 1.5 km north-south and 1.0 km east-west, within which there are multiple magnetic targets scheduled to be drilled in the coming months.
Based on the initial assay results received to date, the new Southwest zone ranks as the Company's most-prospective exploration target. The Company is actively drilling this new zone as part of the ongoing Phase III (22,000m) exploration program, which is scheduled to be completed in mid-2023.
Exploration Targets at Diablillos Project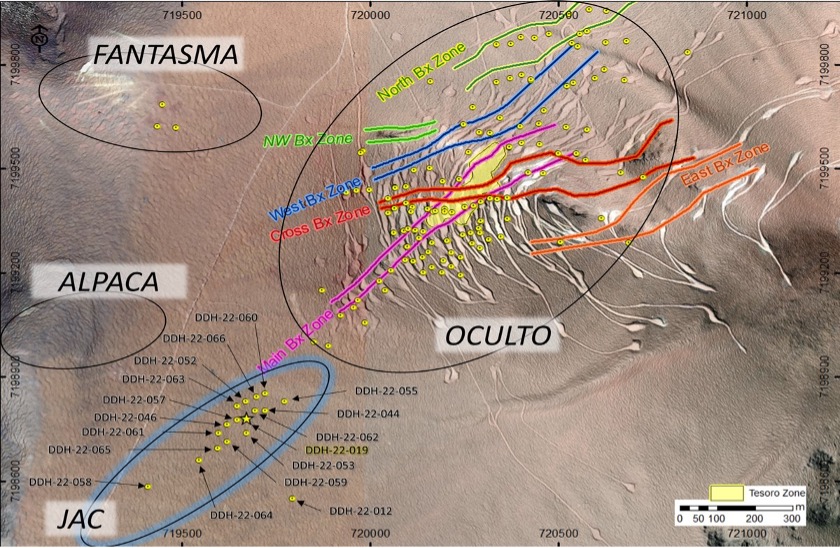 The Diablillos property hosts several zones of high-sulphidation epithermal alteration and mineralization with strong supergene overprinting. There are several known mineralized zones on the Diablillos property, with the Oculto zone hosting the principal silver-gold deposit. Oculto is strongly oxidized down to depths in the order of 300 m to 400 m from surface. The precious metal mineralization throughout the deposit occurs as extremely fine grains along fractures and in breccias or coating the inside of vugs and weathered cavities. The dimensions of the optimised Whittle open pit shell measure 1,350 metres in length, 750 metres in width and extends to a maximum depth of approximately 300 metres.
Gold and silver mineralization ascended along steeply dipping feeder structures and was deposited in siliceous breccia zones. Mineralizing fluids also migrated laterally along shallowly dipping favorable permeability horizons where it was deposited along with silicification. Gold is associated with a deeper permeability horizon and with shallow zones associated with the feeder structures, while there is a secondary enriched silver zone related to a weathered horizon. Both steeply dipping and shallowly dipping zones were taken into account in the new Mineral Resource estimate.
The October 2022 Mineral Resource has significantly expanded the high-grade Tesoro zone, which is the highest-grade area within the Oculto deposit. A series of close-spaced drill holes has resulted in the Tesoro zone expanding to approximate dimensions of 600 metres in length by 350 metres in width, comprising estimated Measured Resource of 19.3Mt @ 98 g/t Ag and 0.88 g/t Au, containing 60.6Moz Ag and over 544koz Au.
Over US$50 million has been spent on exploration at Diablillos totaling over 100,000 meters of drilling in over 450 holes.
Year
Operator
Description
1983
Secretaría de Minería de la Nación
1,409 rock chip samples (includes 190 outcrop and 271 slope debris samples from Diablillos Sur)
1984 - 1987
Shell C.A.R.S
A Rock geochemical survey; three Winkie drill holes
1987
Ophir Partnership
37 rotary drill holes (approximately 30 m deep) in the Corderos, Pedernales, Laderas, and Jasperoide areas
1989 - 1991
BHP
Geological mapping (1:1,000 to 1:7,500 scale); 380 rock chip samples; 1,200 m of bulldozer trenches; 55 air RC holes (6,833 m)
1993
Pacific Rim Mining Corporation
Five diamond drill holes (1,001.8 m) in the Oculto Zone
1994
Pacific Rim Mining Corporation
148 km of chain and compass grid; geological mapping; 122 line-km of ground magnetic survey; 34 line-km of induced polarization (IP) survey; 213 hand auger samples; 2.5 km of trenching; 250+ rock chip samples; 12 diamond drill holes (2,013.9 m)
1996 - 1997
Barrick Gold Corp
Geological mapping; surface sampling; RC drilling; CSAMT survey; mag survey; environmental impact study; metallurgical test work
2003
Pacific Rim Mining Corporation
(for Silver Standard)
20 diamond drill holes (3,046 m)
2005
Pacific Rim Mining Corporation
(for Silver Standard)
Five diamond drill holes each at Renacuajo and Alpaca
2007
Pacific Rim Mining Corporation
(for Silver Standard)
45 diamond drill holes (9,600 m) on Oculto; one hole (203 m) at Laderos; three holes (unknown length) at Pedernales; five holes (unknown length) at Los Corderos; four HQ-size diamond drill holes sampled for metallurgical tests
2008
Pacific Rim Mining Corporation
(for Silver Standard)
52 diamond drill holes (7,910 m), three of these for geotechnical studies; additional metallurgical studies
2009
Silver Standard Resources
Mineral Resource estimate
2011 - 2012
Silver Standard Resources
Internal Preliminary Economic Assessment, rock chip sampling, 1,679 m diamond drilling (19 holes)
2017
AbraSilver
28 drillholes and a total of 3,148.5m
2018
AbraSilver
Preliminary Economic Asessment including Resource estimate
2019
AbraSilver
Phase I Drilling Campaign with 2 diamond drill holes (844 m),
2020 - 2021
AbraSilver
Phase II Drilling Campaign of 55 drillholes and a total of 15,143 m expanding Oculto to North, West and East and testing new targets
2022 - Present
AbraSilver
Current 22,000 m Phase III drill campaign underway, focused on defining the new high-grade JAC zone which was discovered by the Company in August 2022
Scroll right to view more